So Bananas is finally BACK!!!
This is going to be off the friggin' chain, y'heard?!..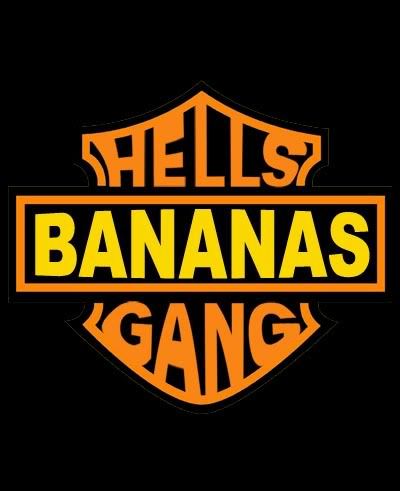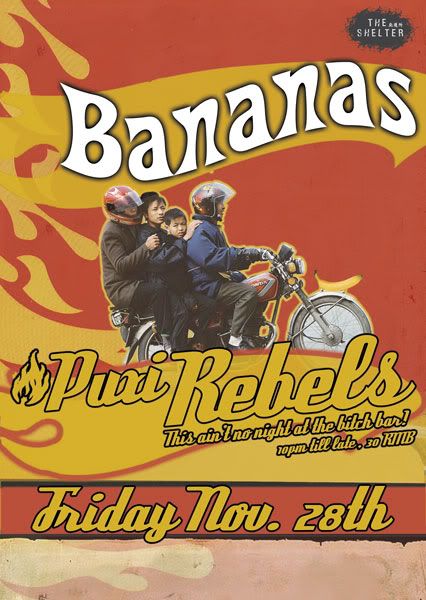 Calling all Big Dog Riders, Fender Bunnies, Bettys, Ink Slingers, Chrome-Sluts, Gear Heads and even you Weekend Warriors out there!

It's time to break out your spiked leather vests, flaunt your tats and facial hair (if you're a big boss man) and get mean, because the Hells Bananas Gang are back from a long swoop on the superslab to bring you a night of shaft jacking beats, trick biker rock and dicing musical madness that will totally tweak your transmisson and blow your bandana covered mind!


Whether you roll a Hog, Rat Bike, Chopper, Rice Burner, Pasta Rocket, Yammahammer, Zook, Milwaukee Vibrator, or even just ride Sidecar,
DJs
-

*Kid "Screamin' Night Hog" Fresh
(3 x Daytona Harley Rodeo Champion, Outlaws M.C. Hong Kong chapter)


*Kami "Rebel Without A" kaze
(Freedom Rock President, Macau Hells Angels Chapter)


*
el "California roll" nomo
(Gypsy Tour Ride Captain, Shanghai Bandidos M.C.)


will keep you at pucker factor ten until you're hanging on by a death grip, or it's time to bust out your brain bucket for some nipple surfing. So bring your hardbelly mama and your bronson rock and get ready to bump start yourself for a big night of hanging it out until you're totally hosed and ready for some love nudges or a fluid exchange.

This ain't no night at the bitch bar!


*Opening knucklebuster set by Santo "Bullneck" Chino*


10pm til late, 30rmb entrance, cheap ass drinks.
At THE SHELTER, 5 Yongfu Lu near Fuxing Xi Lu

Limited supply free giveaway Hells Bananas Gang Biker Bar mix cd's at the door, so come early to get yours before the repo man snag 'em!
No Huggermuckers, Gremlins, Insta-Bikers or Cagers allowed.

Wanna little taste?